Introducing Mutiny Wallet: Private, unstoppable bitcoin payments
We're happy to announce Mutiny Wallet raised just over $300k during our preseed funding round!


We're happy to announce Mutiny Wallet raised just over $300k during our preseed funding round! This means we can dedicate ourselves fully to building a user-friendly bitcoin wallet with exceptional privacy, scalability, and accessibility. We want to make bitcoin, lightning, and privacy best practices as easy as clicking a link.
The three of us — Tony Giorgio, Ben Carman, and Paul Miller — joined forces here in Austin, Texas almost two years ago. We all moved here for the bitcoin community, and we've grown and learned so much alongside the wonderful, freedom-loving bitcoiners in our adopted home town. Through meetups, hackathons, and working endlessly on bitcoin projects and at bitcoin companies we've developed extensive expertise in the bitcoin, lightning, and privacy domains. Now we're excited to put that expertise to use by building the best bitcoin wallet we can imagine.
Meet the founders
Tony Giorgio (CEO): An engineer with substantial experience in bitcoin and lightning startups since 2018, Tony has focused on bitcoin integrations, lightning privacy, and decentralized identity across various organizations.
Ben Carman (CTO): Formerly the lead engineer at The Bitcoin Company, Ben has contributed to open-source Bitcoin projects for about four years and is renowned for his work on DLCs, Coinjoin services, and hosting Austin Bitdevs.
Paul Miller (CPO): A full-stack engineer with a strong frontend background, Paul previously worked on Voltage's R&D team and has contributed to numerous projects in the bitcoin and lightning space like OpenSats, Fedimint, and BDK.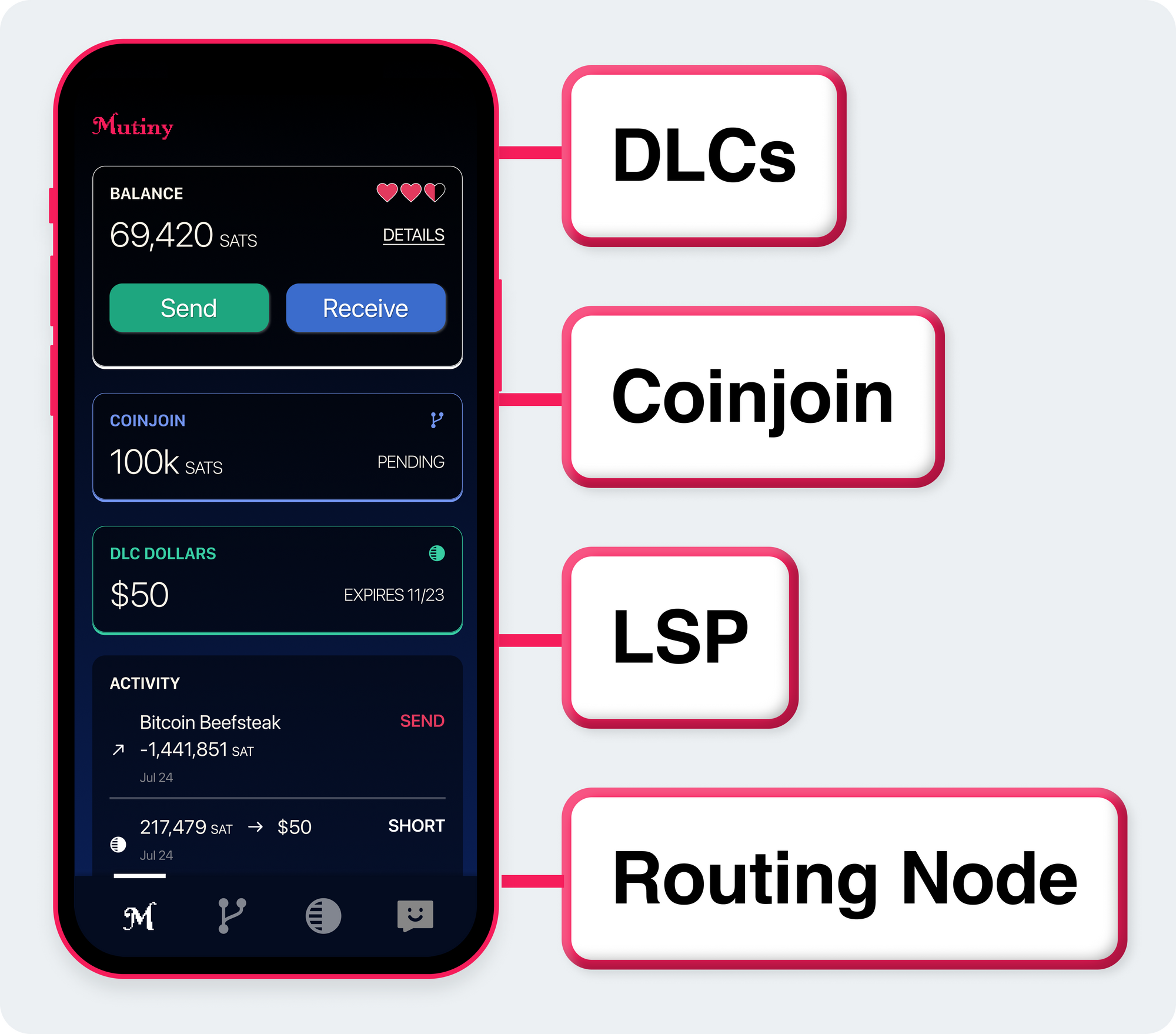 What we're building
Mutiny Wallet: A web-first wallet capable of running anywhere, providing instant onboarding and platform censorship resistance. Self-custodial, privacy-focused, and user-friendly.
Routing Node / Lightning Service Provider (LSP): We're developing a next-generation node implementation tailored to Mutiny Wallet.
Coinjoin: Mutiny Wallet and Vortex will join forces, integrating on-chain and lightning privacy tools.
Synthetic dollars via DLCs: Lock up your bitcoin in contracts and obtain a stable dollar value.
Who it's for
We want to build a daily spending wallet for highly discerning cypherpunk bitcoiners and their newcoiner friends who are just starting down the rabbit hole. We believe bitcoiner best practices are best practices, and we want to bring the absolute best user experience and technology to enable users to use bitcoin the right way and for the long term, rather than cut corners for a quick win.
Progress so far
Our team has already developed a proof-of-concept wallet and a first-of-its-kind lightning node in the browser. Tony Giorgio and Paul Miller have spent the past six months at Voltage, building the LSP that will power Mutiny Wallet and laying the foundation for a seamless and innovative user experience. Ben Carman's Vortex coinjoin project is ready, but needs the vertical integration to really succeed. Now our job is to pull these parts together into a cohesive whole and ship the experience we know is possible.
Acknowledgments
We'd like to thank Voltage for incubating our project. We're also incredibly thankful for the support and guidance of our investors — Ten31, Brad Mills, Chris Hunter, American Hodl, Ti Kawamoto, and NVK — who have played a crucial role in helping us reach this point.
And most of all we want to thank and honor the amazing bitcoin community who have been with us every step of the way. This community knows what's possible, roots for what's good, and won't rest until bitcoin reaches its potential. We sincerely hope Mutiny can be a valuable step toward that potential.
Learn more about Mutiny Wallet
To get an in-depth look at our funding journey and learn more about what we're building and why, watch our Pleb Lab Builders Day video.
To the future
We hope you'll join us on this journey as we work to make bitcoin payments easier, more private, and available to everyone! You can sign up for our waitlist using your Email address or Nostr pubkey at https://app.mutinywallet.com and we'll let you know when we have something ready.