Mutiny Gifts!
We are excited to announce Mutiny Gifts as the easiest way to onboard new users with Bitcoin!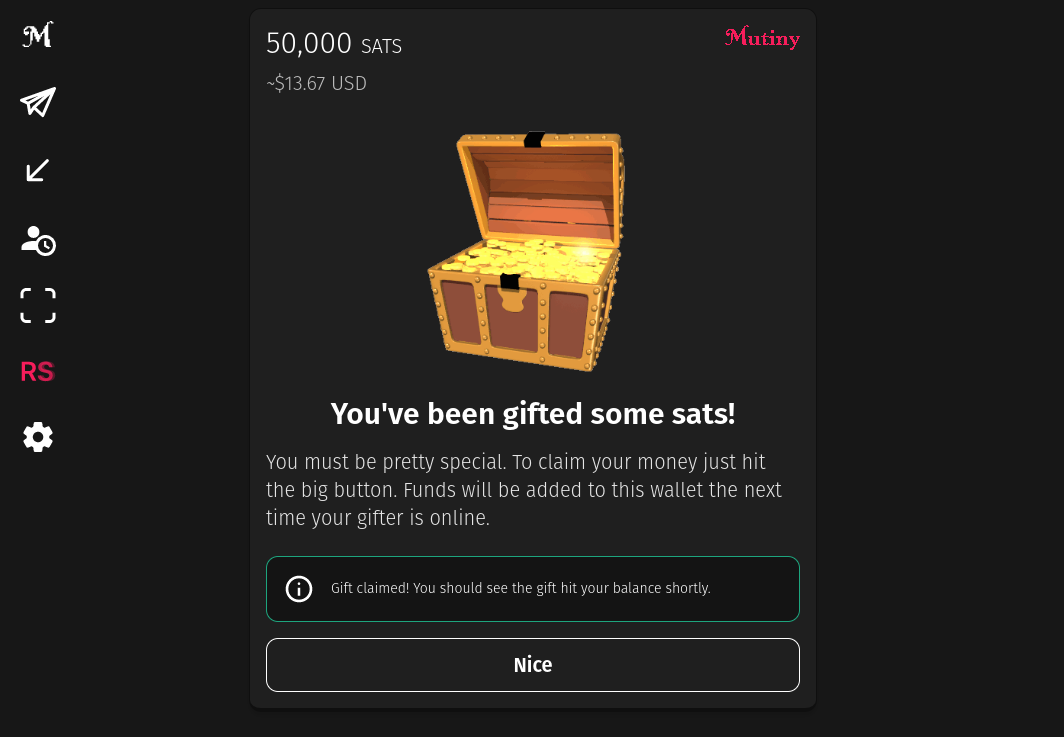 We are excited to announce Mutiny Gifts as the easiest way to onboard new users with Bitcoin!
Mutiny Gifts allows you to onboard a new user simply by showing them a QR code. Once they scan the QR code, it will load up Mutiny Wallet on the web, allowing them to redeem the Bitcoin. If they do not have a wallet already, it will create one in the background and open a lightning channel once redeemed.
Our unique approach to gifting keeps your self-custodial funds in your control until the user redeems it. You can revoke access at any time if the gift is not claimed. No more manually clawing back or being worried about wasted sats. There are a few benefits of using Mutiny Gifts as an onboarding tool.
Self Custodial
The entire process is self-custodial. At no point do the funds sit in limbo custodian. This solves a significant problem with typical gifting solutions that leave the sats on a custodian service. If the gift is never claimed, they typically require you to log in again to redeem them. With Mutiny, you may go to your active gifts and cancel if they never redeem it, but either way, the sats never leave your control.
Quick Redemption Process
There's only one instruction to give the recipient! Show them the QR code to scan. It will open up the web version of Mutiny Wallet to redeem the gift.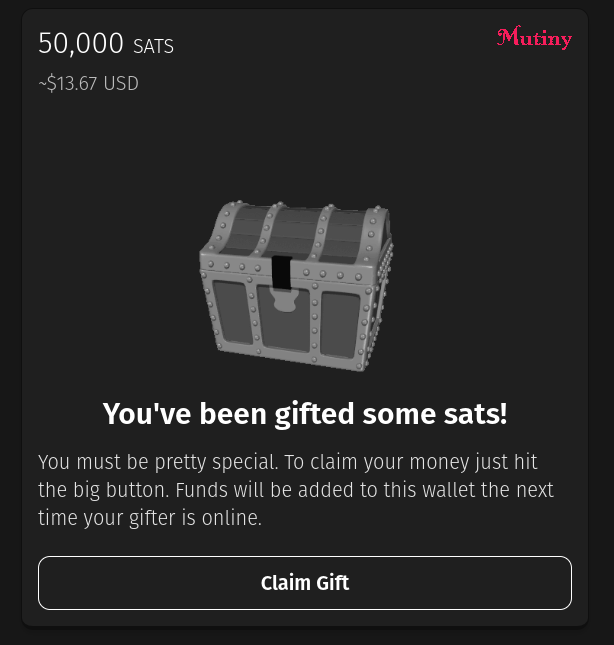 You no longer have to instruct a new user to "download X wallet in the app store.. sorry, that's spelled with two u's, no not that one, yes okay download and wait a few minutes, now click receive, now input 50,000 sats, now show me a QR code."
One QR code and the recipient has a self-custodial wallet with a lightning channel filled with sats. It does not get any easier than this. This is one of the key reasons we built Mutiny to be web-first. At any time, the user may upgrade to the mobile apps (iOS soon). Until they do, they can try self-custodial Bitcoin from the web without any downloads needed. Impress them with the amazing power of Bitcoin without cheating with custodians that behave as banks.
How It Works
We've been building out the infrastructure of our Nostr Wallet Connect service for many months. We've added budgeting, auto approvals, multiple profiles, subscriptions, etc. And now, this latest feature demonstrates how one mobile user can request sats from another mobile user while staying non-custodial.
The QR code shows the information the recipient needs to send a Nostr message with an encoded invoice. The sender listens for this message from a relay and pays the invoice. In the case of gifting, we added "one-time use" to our array of Nostr Wallet Connect feature sets.
Try it out
One lucky person can try this out now! The QR code below will open up Mutiny Wallet and allow you to attempt to claim it. The first person to hit the claim will successfully redeem it to their wallet.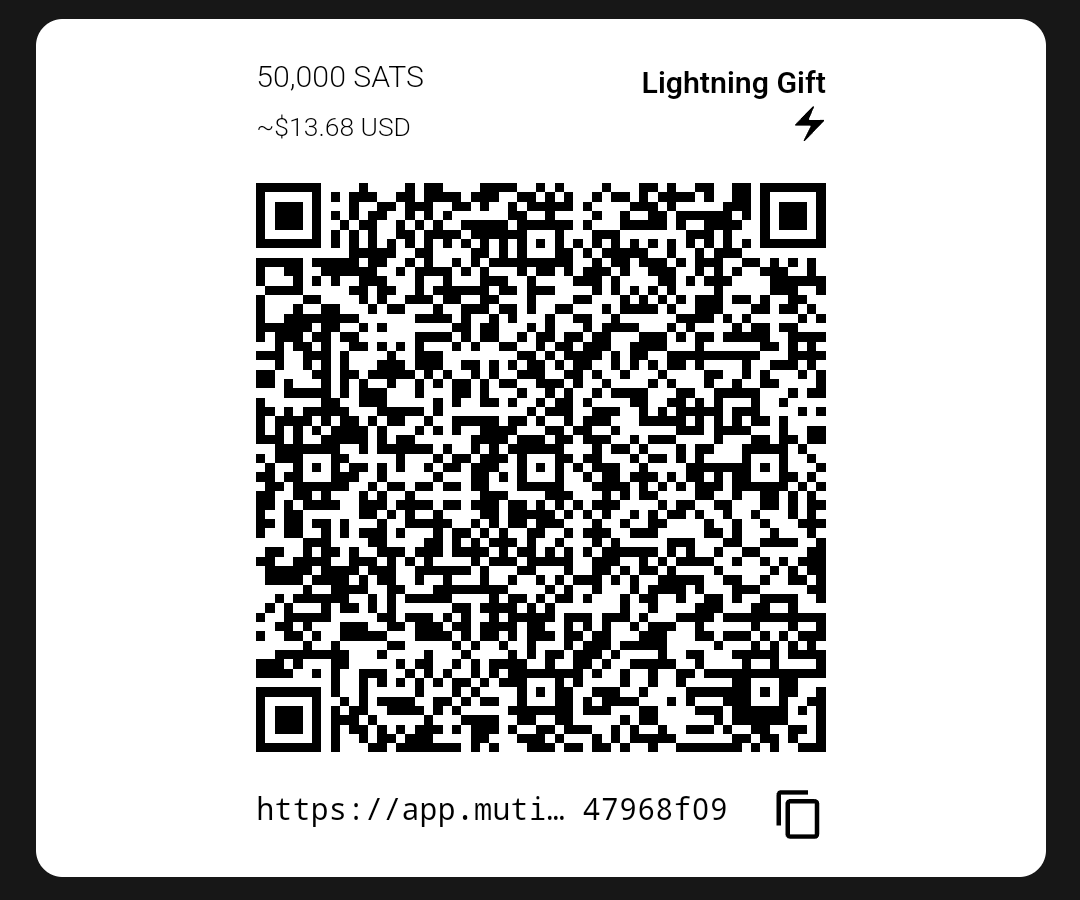 Start Giving Gifts Today!

This feature marks the first of our paid-only features. Mutiny+ has been a monthly subscription tier that has only given you smug satisfaction until today. Redeeming a gift does not require a subscription, but giving it out does.
For 21,000 sats per month, you may give out unlimited gifts. We will soon offer additional services such as LNURL addresses, full storage syncing across multiple devices, watch tower services, and more.
And because we're MIT open-source software, you may self-host this and get this feature for free! We released our self-hosting guides yesterday.
If you're someone who onboards many Bitcoin users, we would love to hear what you think!